Charisma
What is it?
If you feel like you're not as persuasive or inspirational or as recognized as you'd like to be in your professional or personal life, can you possibly become charismatic?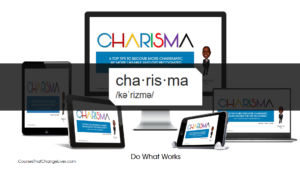 Two Common Questions. One Common Answer
The first question that often comes up when in discussion with my clients who include leaders of global Fortune 500 companies, entrepreneurs, coaches, consultants and small business owners is whether it's possible to become or be charismatic without having to resort to anything manipulative or unethical.
What do you think?
The other question is whether charisma can be taught.
Can it?
The answer in both cases is "Yes." Many people don't believe this because of the charisma myth.
The Charisma Myth
There's a myth about charisma that goes along the lines of…
Charisma is an inborn quality and it's something you either have or you don't.
Again, based on what you personally believe about charisma, what do you think?
The Truth About Charisma
If you feel like you're currently not as charismatic as you'd like to be the truth is that you can learn how to develop and perfect your skills so you become more persuasive, get recognized and be more charismatic.
It's about doing what works.
In "CHARISMA: 6 Top Tips to Become More Charismatic be More Likeable and Get Recognized" you learn about six basic and easy to follow components that work
Use these six tips to start to being more charismatic without transforming your fundamental personality. It doesn't matter what your background is or even if you're a "certified introvert' like me.
In a nutshell, for you to start being more charismatic you must adopt a series of specific behaviors and a mindset that aligns with the personality you already have. In under 10 minutes I'll reveal to you how you too can start to be more charismatic.
So, if you're ready to become more influential, more persuasive, and more inspiring let's do this!
CHARISMA – 6 Top Tips To Become More Charismatic Be More Likeable & Get Recognized (Host: Bayo AO) from Bayo on Vimeo.